Are You Ready to Join an Indoor Women Fitness Boot Camp Program that Literally Torches Unwanted Fat While Toning and Tightening Your Body?
You don't have to spend endless hours in the gym. Give Michigan Women Boot Camp, just 1 Week and you will lose up to 5 pounds and 2 inches of fat!
For a limited time only:
Try our group boot camp program FREE for 1 Full Week!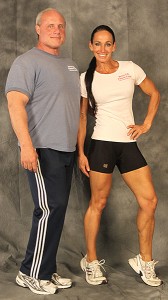 From Randy & Brenda Woody
Michigan Women Boot Camp
Date:
Dear Friend:
Are you sick of boring exercise programs that leave you yawning?
Do you steer clear of traditional gyms because you feel shy about working out in front of men?
Have you struggled to lose those last 5 pounds of baby fat and have had no success?
Never have another boring workout again! Whether you have 5 pounds or 50 pounds to lose, Michigan Women Boot Camp can give you a fun, energizing workout at a Women fitness boot camp that is sure to fit into your busy life!
My name is Randy Woody and, along with my wife, Brenda, I'm the owner of Better Life Fitness, Inc. We've spent the last 32 years helping women who have tried every FAD diet and exercise program available—and failed—finally lose weight and gain better health and confidence again!
Better health and weight loss became important to me at an early age. I watched as my grandmother and my aunt passed away from diabetes and obesity. They'd dealt with weight problems their entire life and I realized I wasn't far behind, tipping the scale at a staggering 320 lbs. in just the 7th grade.
You read that right. It still shocks me now when I think of it. But it's the truth. At such a young age I was already on the path to unhealthy living and in danger of having my weight affect my health for the rest of my life. And I was only in the 7th grade!
But as young as I was I knew that I was not healthy. I certainly didn't feel I was at my best. So as I got older I made it my mission to learn everything I could about health, fat loss and strength. I didn't want to worry about dying young because I was so overweight. I turned my research into action and finally lost 145 lbs!
Since then I've dedicated myself to helping other people realize the same kind of amazing weight loss I have. I don't just give lip service to my clients. I follow the same program I teach everyone who walks through the doors of The Better Life Fitness Center. People respond to my guidance because they know I've been exactly where they are now. I did it and they know I can help them make the change in their life that will bring them better health, more self-confidence and more energy!
When my wife Brenda and I opened Michigan Women Boot Camp we knew we were filling a need that no other weight loss and fitness center in the area was touching. We couldn't reach everyone we wanted to reach by doing personal training and health coaching so we developed the Better Life Boot Camp for Women geared only for women and for what a woman needs.
These boot camp sessions give every woman of every fitness level a whole-body workout meant to incinerate fat, energize your body so you'll lose weight and feel healthy again! You'll receive nutritional guidance, individual attention, motivational support and a program that will help change your lifestyle habits so you can live the life you've always dreamed of having.
Why Train with a Student When You can Train from the Teacher?
Both Brenda and I have been recognized worldwide for both bodybuilding and strength feats, and I have been rated #1 as the "Fat Loss Expert". That recognition led to Brenda becoming a FOX2News Health Expert in the Detroit area and both of us being much sought after speakers in the health and fitness area. We've been featured in many international magazines, including FLEX, Ironman, Muscle & Fitness, Muscular Development, Womens Physique World and more. We have also appeared on ESPN,FOX, Warner Bros., Daystar, The Word, and CBS networks.
I don't tell you this to intimate you. I tell you about the accomplishments Brenda and I have achieved as Michigan personal trainers because our weight loss and fitness program is recognized as being a premier group training program that will give you the results you desire. We're hired to train other personal trainers for the national fitness franchises because they know they're getting training from the best in the industry.
Of course, I don't really need accolades to tell me how well our group training program works. I can see it for myself every time I walk into Michigan Women Boot Camp Since we opened Michigan Women Boot Camp, Brenda and I have literally helped thousands of women reach their weight loss and fitness goal.
That's what drives us each and every day. That's what we want to help you achieve.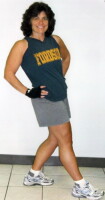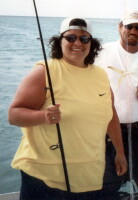 Linda
"Linda lost 130 pounds"
Lisa J.
I came with a friend to try out the boot camps as I was too intimidated to come by myself. Well after the first visit I wasn't worried. Randy and Brenda went out of their way to make me feel welcome and that they were there to help me. I didn't feel pressure and everyone there was so nice. Randy and Brenda went out of their way to show all of us that we were important and that they really cared about our success. After that I came by myself with no problem. Being out of work it was a stretch for me to come but I will be the first to say the program is worth every penny and more.
I saw results right away. I lost inches really quick. I could see new muscle definition within a couple of weeks. I got a lot of great advice on food and nutrition. Good and bad carbs, essential fats, and the importance of protein. Lots of great information. I can do things now physically that I thought I would never be able to do. It's great and I really do recommend this program to any who come.
"I can do things now physically that I thought I would never be able to do"
Jacqueline Stubblefield
Dear Randy and Brenda,
I want to thank you both for the awesome workouts I received when I signed up for the women's boot camp in September. I lost 6-1/2 inches the first 4 weeks and I just want to say that it was one of the greatest experiences I have had.
I will continue to recommend your program and I pray that you are blessed with 3 fold success.
" I lost 6-1/2 inches the first 4 weeks..."
Cynthia
I had gained 10 pounds and was upset with not getting results from working out on my own at the gym. A relative had suggested giving Better Life Boot Camps a try. I didn't think I would have time for it but with all the sessions they offer each week I have no problem fitting it in around my busy schedule. At first I was intimidated but that changed fast as it is a warm, friendly, and positive environment. A very supportive and encouraging group of women. In the first month alone I learned how to take charge of my health, and I learned how to exercise properly. I lost inches off my thighs, stomach, and am much stronger! That was fast! I love Better Life and can't say enough about it.
"I lost inches off my thighs, stomach, and am much stronger!"
Azita
I was experiencing low energy and could tell I was losing what muscles I had. A friend took me to a boot camp session and I have now been attending going on 2 years. I love it. At first I was scared that I wouldn't be able to keep up but Brenda and Randy are so awesome that they design the workouts for all levels and I had a great time. I have lost the 12 pounds I could never get rid of, I am in a good mood all the time now, and my energy is great. I have never been this light and fit in 20 years and I have never been happier!
I had no strength in my upper body, I had experienced injuries before and had pain in my arms, shoulders, and back—but now they are all gone and I feel great. I love what Brenda and Randy have helped me do and I love everything about Better Life.
" I have never been this light and fit in 20 years..."
Anna P.
I was working out a lot. I was taking spinning classes, I was running and doing the treadmill and I just wasn't seeing the results I desired. My friend suggested I try Better Life Boot Camps, so I came out for a free session as a guest of her.
Well I loved that first session and I was hooked and have been going an average of 4 times a week. I actually look forward to getting up and coming and getting my butt kicked!
Before it was a pain to get up early and go running or to spin class, but now I am getting up earlier and racing out the door to get to the boot camp. Crazy! I am more energized, stronger, and am already seeing definition in my body that I never had before. The motivation and support, and the great people in boot camp is what makes it fun. I love Randy and Brenda and what they are doing for me.
"I am more energized, stronger, and am already seeing definition in my body that I never had before"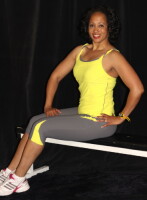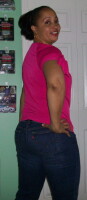 Adriene
I was referred to Better Life by my Fitness Center manager at my work. She said I had to meet you guys and try out your boot camp. I had surgery on my foot 2 years ago and had gone up to 206 pounds. I had been working out at the fitness center at work but not dropping the weight. I was at the point where I hated shopping as I was very self conscious of my looks.
I came to my first boot camp with fear and anxiety and almost didn't go. Well praise God that I did. The group atmosphere is awesome—everyone encouraging each other and Randy & Brenda are the best. Talk about getting personal attention and feeling great from the get go. My story is I have not stopped going to Better Life Women Boot Camps and I have lost over 45 pounds of fat and gained beautiful muscle and transformed my body and my health. I went from maybe going for a walk to just completing my first half marathon! Wow. I am enjoying my life and my new me and having a blast.
"I have lost over 45 pounds of fat and gained beautiful muscle and transformed my body and my health"
What's it going to take to make you take that all important first step toward better health, fitness and weight loss?
The complaints that we hear every day from new clients are probably much like your own…
Your clothes are getting tight or they don't fit anymore
You can't stand to see those "trouble spots" in the mirror and nothing you do seems to make them go away
You're embarrassed because you've got a pot belly and flabby thighs and buttocks
You find that you're always tired, irritable and drag yourself through the day
When you walk into a room you feel self-conscious because you think everyone is seeing the same body flaws you do
You're so busy that you never seem to have time to fit exercise into your schedule or think about what you're eating
You avoid gyms because you feel uncomfortable working out and sweating in front of men
You're just plain unhappy about your current weight and body
It's frustrating to think that nothing you do to help you lose weight works. But Brenda and I are here to tell you that you CAN finally beat the weight loss battle by using a proven method to burn fat, increase your energy level, live healthier and feel fabulous!
After just one week you'll feel your energy soar and best of all, you'll have fun while you work out!
Are you the next woman who'll reach your weight loss and fitness goal?
Michigan Women Boot Camp offers women an all-inclusive program that includes:
Exercise program that torches fat so you lose pounds and inches
body toning of your stomach, buttocks, arms, thighs and hips
nutritional education so you eat the right foods that promote weight loss
life empowering program
motivational support to help keep you on track
body composition
aerobic capacity and endurance
muscle strength
bone density
healthy eating and lifestyle changes that last a lifetime!
If you're a woman who's looking for a Detroit area weight loss clinic, boot camp program or personal trainer, then you must take advantage of our free offer today to see just how much Michigan Women Boot Camp can transform your body and your life!
or call 313-561-LIFE (5433)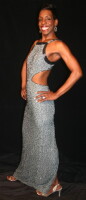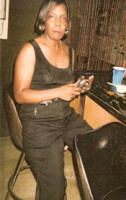 Liz
"Liz Lost 70 Pounds"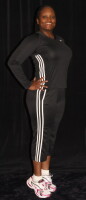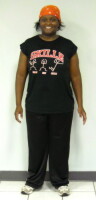 Sharron
"Sharron Lost 60 Pounds"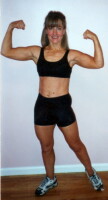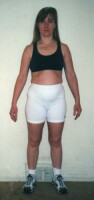 Marge
"Marge 30 days later"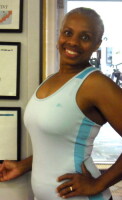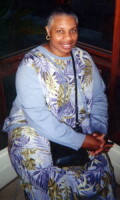 Gwen
"Gwen Lost 110 Pounds"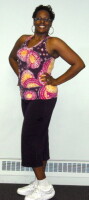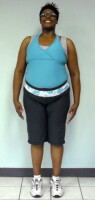 LaShaun
"LaShaun Lost 80 Pounds"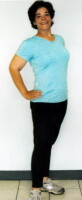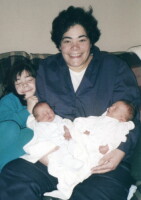 Alese
"Alese dropped her 55 pounds of 'baby fat'"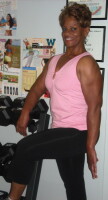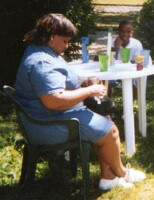 Neisy
"Neisy Lost 130 Pounds"
Pam S.
I was an overweight, out of shape, unhealthy, single, middle aged woman who was needing motivation, inspiration, and guidance. Well I found all and more at Better Life Boot Camp. Randy and Brenda are so positive and motivating that it is contagious. All the women are inspiring and supportive and nice. My over all well being is so improved. I have more energy, a positive attitude, better eating habits, increased strength, and am having fun and making a lot of new friends. Living the Better Life slogan; Lose Weight-Get Fit-Have Fun. That's me.
"I have more energy, a positive attitude, better eating habits, increased strength, and am having fun..."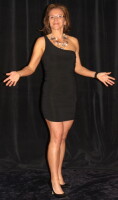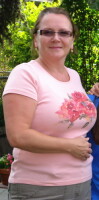 Brigitte R.
I was overweight and really out of shape. I did a weight loss program for a couple months and saw some results, but not really what I envisioned. A co-worker invited me out numerous times to Better Life Boot Camp but I kept making excuses about my busy life style and that time was an issue. When I finally took the time to see the program I was very impressed by all the ladies there; overweight, some athletic, and some had never worked out, but I noticed they all were part of a team and helped, encouraged, and motivated each other. Brenda and Randy made me feel so welcome and they offered me a chair to watch as that is all I came by to do. Well, I loved what I saw and actually stayed for the whole session and was impressed with how much attention is paid to each girl. This is more like personal training at a fraction of the cost. I joined, I dropped 60 pounds, I firmed up areas I thought were gone for good. I went from a size 16 to a size 2!
It's funny but I had accepted my condition and figured that was it for me. I couldn't run half a block but now I go out and run 4-5 miles. My endurance is great, my energy is awesome, and I am such a happier more balanced person. Better Life and their program has changed my life.
"I joined, I dropped 60 pounds, I firmed up areas I thought were gone for good"
Times and Location
Redford Location:
9562 Telegraph Redford, MI 49239
Schedule (Unlimited Access):
Monday thru Friday 5:45am
M - W- F 5:45, 7:00, 9:00am
M-W-Th 5:00, 6:00, 7:00pm
Saturday 9:00am
or call 313-561-LIFE (5433)
Get Ready for 45 Minutes of Fat Torching, Body Toning Minutes of Indoor Fun!
It doesn't matter whether you have those last 5 stubborn pounds or have 60 pounds or more to lose. Better Life Fitness, Inc. has a program that fits everyone! With a dynamic 45 minute workout we'll tackle those "trouble spots" that have been plaguing you for years.
You'll see your body start to change in as little as 1 week. Imagine how great it will feel when you'll finally be able to fit into those skinny jeans again. You can reach into your closet and pull out that tent dress that has always looked unflattering on you and throw it away for good!
It's important to us that all the women who work out at Michigan Women Boot Camp feel comfortable in their environment. That's why we foster a supportive atmosphere. We don't want any negative energy to keep you back from your goal. We only allow clients to join who will help the group maintain an uplifted spirit. If you're a downer, no thank you. There are other gyms for that.
At The Better Life Fitness Center. we have a community of women who are all working hard, having fun, and striving for the same goal. And we want you to reach that goal!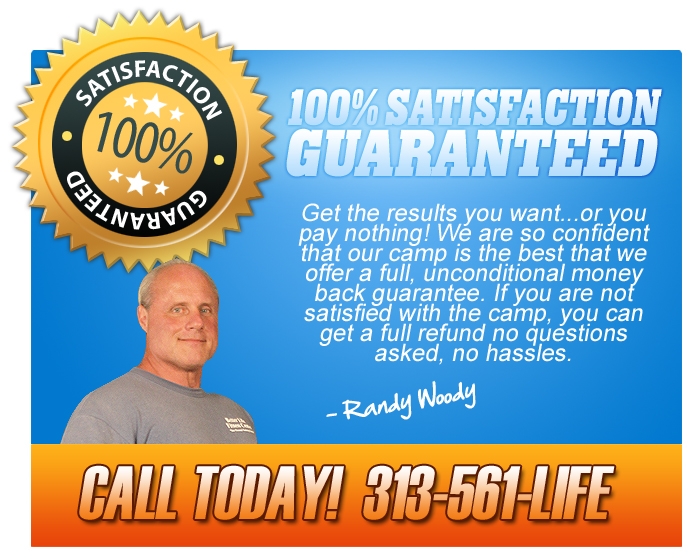 or call 313-561-LIFE (5433)
For a limited time only:
Try our group boot camp program FREE for 1 Full Week
When you combine our 1 week FREE trial membership with our 30 day unconditional guarantee, you really have a win-win situation. When you lose, you really gain.
Are you ready to put your health first and join an indoor boot camp program that guarantees results?
Are you ready to finally get that sleek and sexy body you've always wanted?
Are you ready for a high-energy boot camp workout that is geared for women only and their needs?
If you are, then Michigan Women Boot Camp is ready to get you started!
or call 313-561-LIFE (5433)
Think of it...
No bugs
No rain
No mud
No men
No boring cardio training
No drill sergeant yelling in your face
No sweaty equipment
And no excuses…just results!
Let over 30 years of weight loss and fitness experience make a difference in your life. Take that first step. Call Michigan Women Boot Camp today!
Sincerely,

Randy Woody
Michigan Women Boot Camp (Better Life Fitness, Inc.)
PS. Don't let this opportunity to get 1 Full Week of boot camp training at Better Fitness Living, Inc. for FREE. This is a no-risk offer that is win-win! Simply sign up and get your first week for free. If after 30 days you aren't completely happy that you've lost inches and pounds, simply let me know and I will refund 100% of your money. You really can't lose!